Jennifer Lawson
Chief Civic Innovation Officer
Points of Light
Jenny Lawson is chief civic innovation officer at Points of Light leading forward-thinking initiatives, partnerships and campaigns to advance the mission of Points of Light around the world since 2012. Jenny advances programs and research to aid companies in achieving their social change goals through the actions of their employees through efforts that include the  Corporate Service Council of leading brands, The Civic 50 ranking of community-minded companies and corporate consulting, training and knowledge centers. Jenny joined Points of Light in 2011 to head A Billion + Change, the national campaign that mobilized more than $3 billion in pro bono service pledges from U.S. businesses – the country's largest commitment of pro bono service in history.
She came to Points of Light from the Pew Center on Global Climate Change (now C2ES), where she led a global campaign focused on energy efficiency and environmental awareness with some of the nation's largest companies. Lawson also served as director of the Office of the President at the Nature Conversancy's national headquarters, leading initiatives to engage corporate thought-leaders in sustainability efforts. Her career began with community development and affordable housing advocacy in northern Virginia, where she served as the founding executive director of the Alliance for Housing Solutions. She continues to serve there as a board member today.
She is a graduate of the University of Virginia where she studied Philosophy and Mathematics.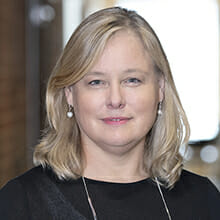 Get Involved & Light the Way